Dear friend,
Do you need a reliable, fast and affordable web-hosting platform? Awardspace to the rescue.
Your web-hosting company can be compared to the engine that powers your online business. It can make or break your online business. Trust me, I have been there before. To succeed online, you need a hosting company that is:
Reliable
Fast and
Affordable and
Efficient
You can choose either FREE HOSTING or BASIC HOSTING (Recommended for you)
Take advantage of the ongoing promo to get a 1 year basic hosting for $0.99 Now $2.99/month (Instead of $4.99/month)
Remove restrictions due to free hosting
More than one database
99% uptime
Premium support
Unlimited Disk Space
Unlimited Traffic Unlimited
You can Host 2 domains Domains
1000 E-mail Accounts
and lots more…
Ready to get started?
Get AwardSpace Webhosting here
or click the image below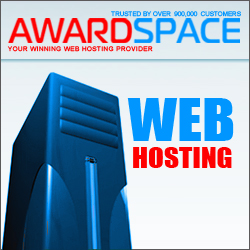 Below is the comparison between free and basic hosting from Awardspace (Hurry to get the promo for basic hosting before it ends)
Feature
Basic
FREE Web
Disk Space
Unlimited
1 GB
Traffic
Unlimited
5 GB
Domains
2
1
Subdomains
5
3
MySQL Databases
2
1
MySQL Database Space
50 MB
30 MB
PostgreSQL Databases
2
0
PostgreSQL Database Space
50 MB
0 B
E-mail Accounts
1000
1
E-mail Aliases
2000
1
E-mail Filters
2000
1
Spam Protection
Enabled
Enabled
SMTP
Enabled
Enabled
FTP Accounts
20
1
Password Protection
Enabled
Disabled
IP Addresses
0
0
Mailing List
0
0
Crontab
0
0
SSH Access
Disabled
Disabled
Banners
Disabled
Disabled
Trouble Tickets
Enabled
Enabled
Price35.88 USD 0.90 USD (Closed) Now $2.99 (instead of $4.99)